Well, first of all we have only one roaster that is (unless it is an emergency and we've run out). And… our roaster is…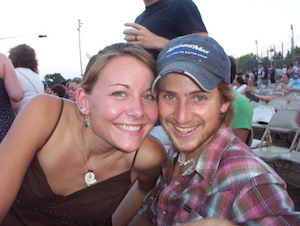 Run by the one and only Ben Boyt and his lovely wife, Alexa Boyt.
Ben the coffee aficionado behind La Taza Negra, is a skilled roaster who whole-heartly believes in roasting frequently and in small batches –to keep coffee at its freshest.
That being said, you will notice that his coffee is off-the-hook remarkable! Amazingly flavorful and superbly crafted!
His wife, Alexa is the beautiful mastermind in the baking department of their shop.
She has the most wonderful way of making absolutely delicious scones and cinnamon rolls. And… this year, I bet she is gonna come up with a variety of other yummy items.
This year, La Taza Negra's beans come from Tepic, Nayarit, Oaxaca, and the Chiapas.
Ben personally picked up the coffee beans –all 500 pounds, from Mexico City to create some fantastic blends for this year's high-season.
Once I know of the blends, I'll explain in much more detail. But for now, Ben has been pretty busy and hasn't filled me in on his master-plan.
Him and his wife are a little busy with their son, Aiden and their new little girl, Willow. Not to mention, they just moved locations and are in the middle of an intense renovation to their shop/home.
Hopefully, it won't be too much time before they open their doors. But… once they open, I recommend visiting Ben and Alexa and their amazing cafe, La Taza Negra.
To get to the cafe, you can drive into the town of Melaque. Taking the road, Alvaro Obregon toward the ocean, and then hang a left on Vicente Guerrero. It is on the left #112.
Below is a helpful map that might be of use, especially since Mexico is not particularly known for having street signs.
Their hours are from 8:00 am – 1:00 pm Tuesday thru Saturday. Also, if you do need to get a hold of Ben, you can contact him at 314.111.2888 or at latazanegra@gmail.com.
Photo by gnat