About Alison
Author Archive | Alison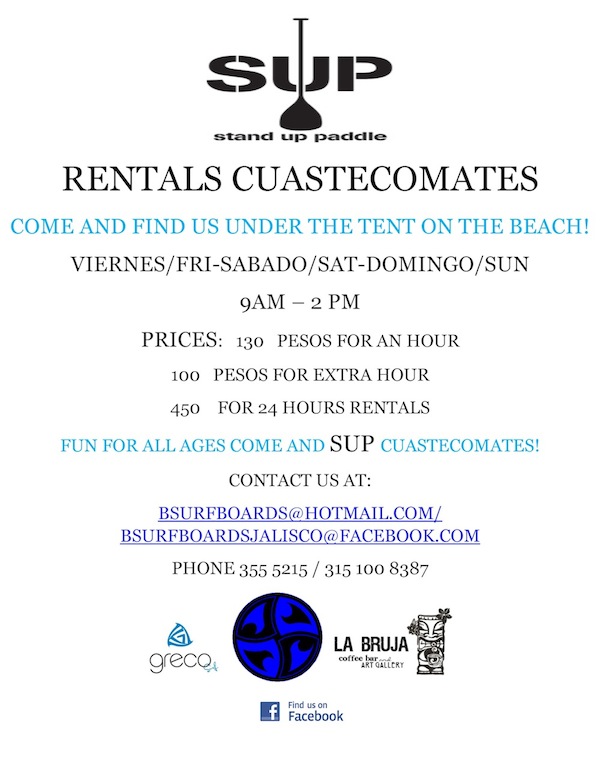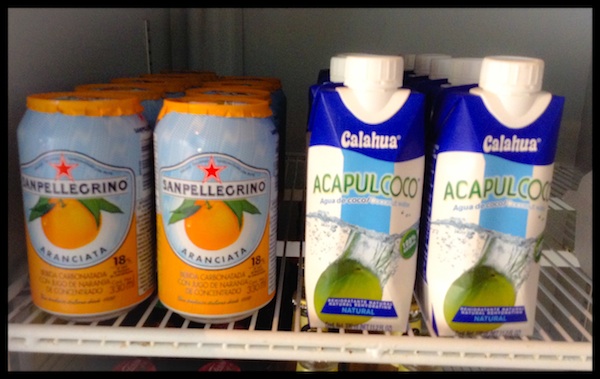 For those of you not interested in a coffee beverage or an alcoholic one, we now offer a bigger variety of other drinks.
For starters, we also carry Hot Chocolate, Chai Latte's, Hot Tea, Iced Tea, Maracuya Orange Juice, and the occasional Aqua Fresca, and now…
Orange San Pellegrino Mineral Water and Coconut Water. —YEAH!!!
Hopefully, soon here… we will be carrying bottled water and mineral water.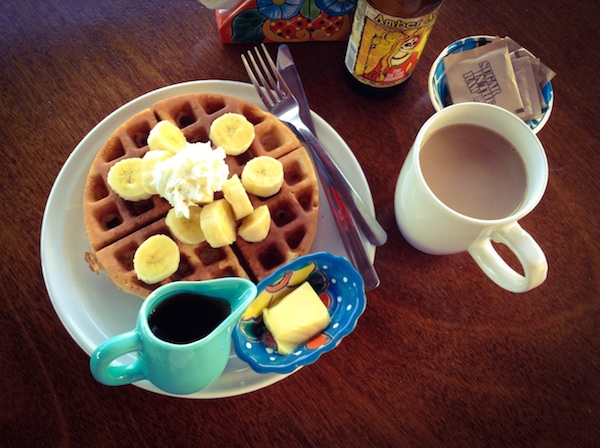 They're ABSOLUTELY DELICIOUS!
–Made with vanilla, cinnamon, and nutmeg.
And…. some days, we serve them with berries and whip cream.  Other days, we offer waffles with pecans and ginger-butter.  And…. sometimes they come plain or with bananas.  —Como tu gustes.
Either way, they are a Must Try -plain, with berries, or otherwise.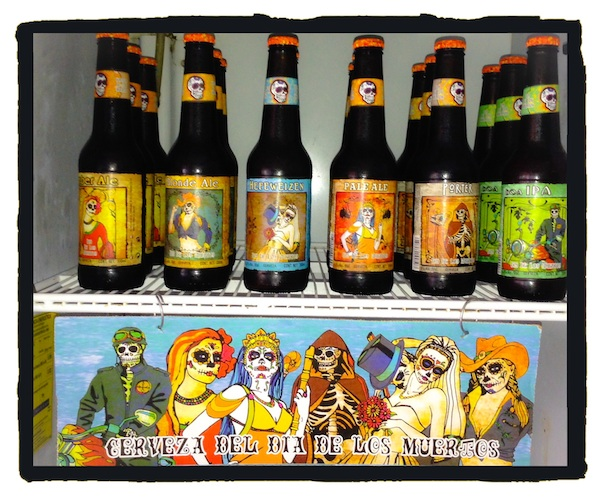 We are NOW serving beer, wine, and sangria! YEAH!!!
This week's beer is a seasonal variety made by Tecate —Mexicalibeer. That includes: an Amber Ale, Blonde Ale, Hefeweizen, Pale Ale, Porter, and IPA.
Prior to selling these beers, I had to do a little research and make sure that they work and were tasty enough. –I had a bit of fun that day 😉
And… in all honesty, I loved them all, but the Hefeweizen. –But… that may be because I'm not a big hefeweizen fan 🙁
We will also be caring little vicky's (little Victoria's) all the time at the shop.
The house wine we are caring this week is Sol de Chile. –The red is a blend of Cabernet and Syrah. The white is a blend of Sauvignon Blanc and Chardonnay.
I really quite liked and enjoyed tasting these two varieties!
The Sangria for the week, is gonna be a Black Mangoed Iced Tea Sangria. –Made with a white wine, and topped with apples and peaches.
So… if you are an alcohol-partaker, I recommend swinging by the shop and sharing a glass with me 😉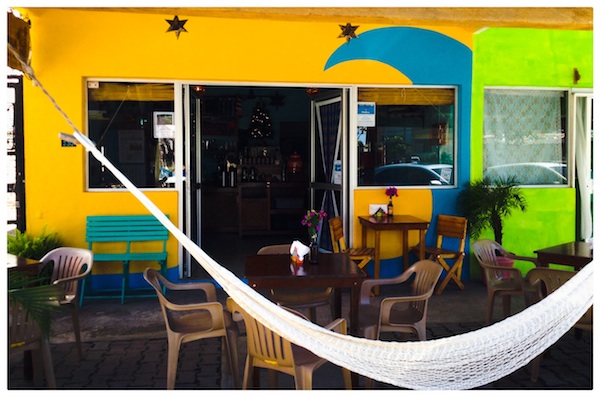 With a NEW season, comes a new outlook on things. So…. I've changed things up at the shop.
For one, I've repainted the front a wee bit.
Two, changed out the outside seating, it's a bit more comfy –all the more to sit a little longer and chill out.
Three, I have added a new refrigerator in front –that includes alcoholic beverages.
Four, I've added several new items to the menu -both for beverages and bites.
Five, artwork by other artists will move forward into the cafe area.
Six, –While in the back, is now reserved to be a Surf Shop. Which will include surfboard and stand-up paddleboard rentals. And… other surf accoutrements for sale.
And… lucky number seven, in time… I shall have shirts for sale.
Oh… and how can I forget, I also have some AMAZING double-wall ceramic To-Go mugs that have the La Bruja logo and includes a silicone lid ——-available at the shop FOR SALE.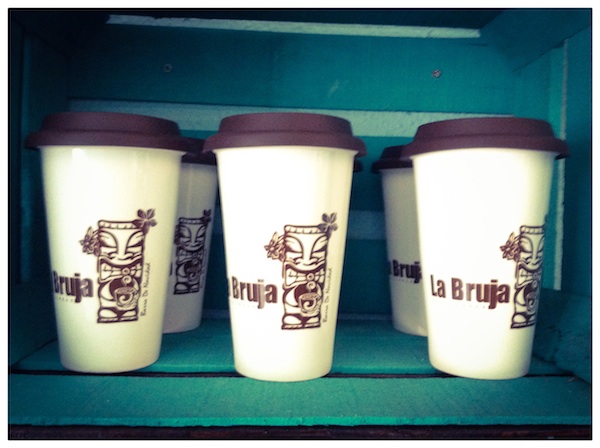 Ok, I've put my time in for the day –it's time for me to punch out. I've got work in the morning 😉
NEW ARTIST IN THE SHOP -John Napper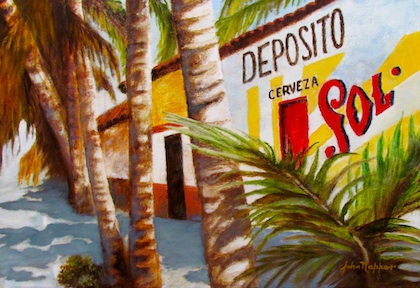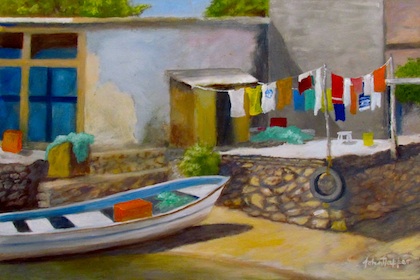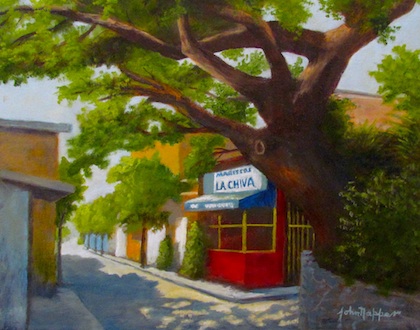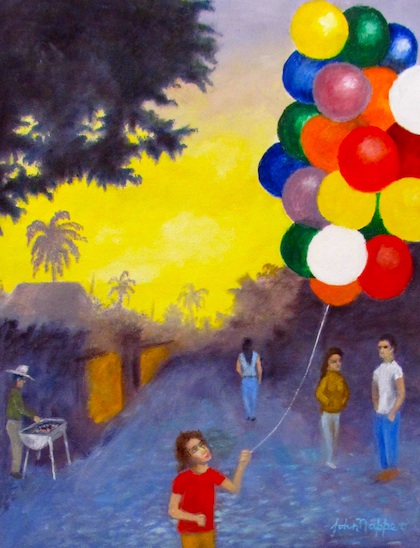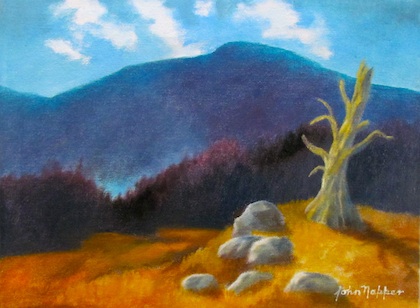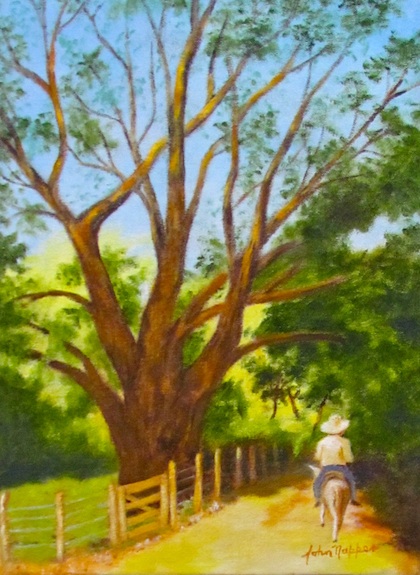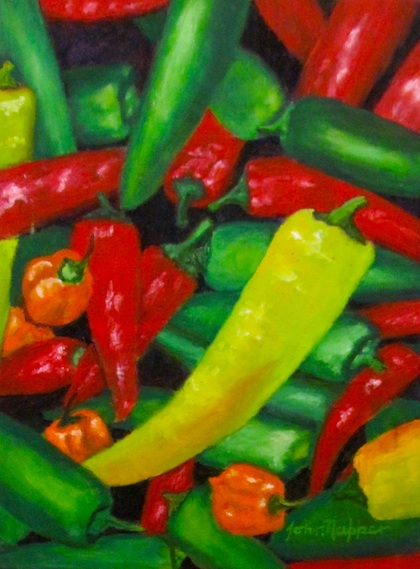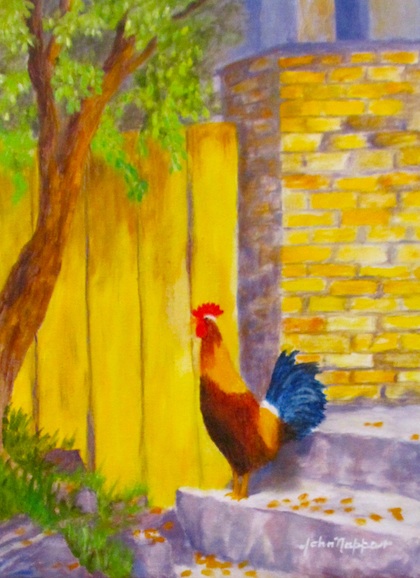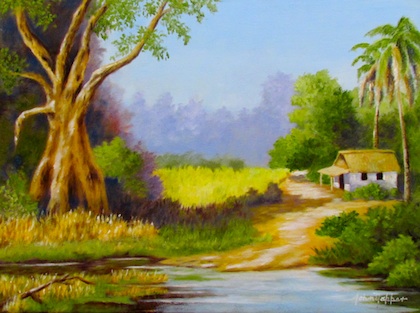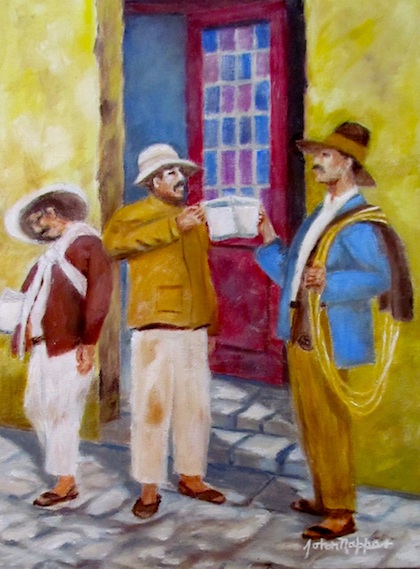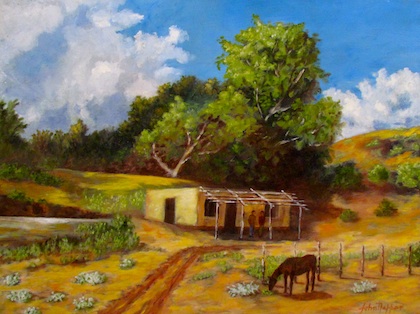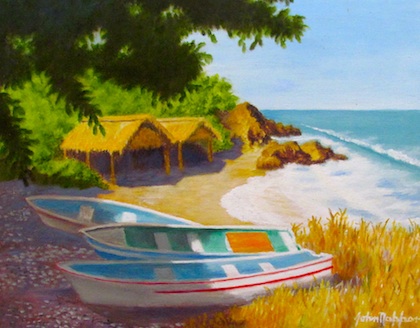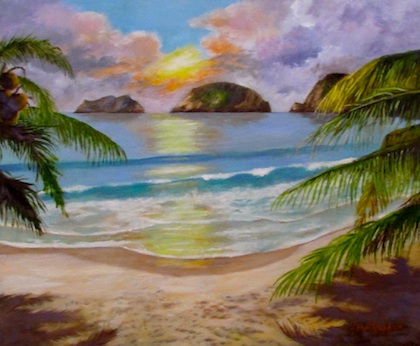 If you get a chance, you should swing by the shop and check out
MR. JOE LUSK'S artwork.
–Down below, you can see that it is quite amazing!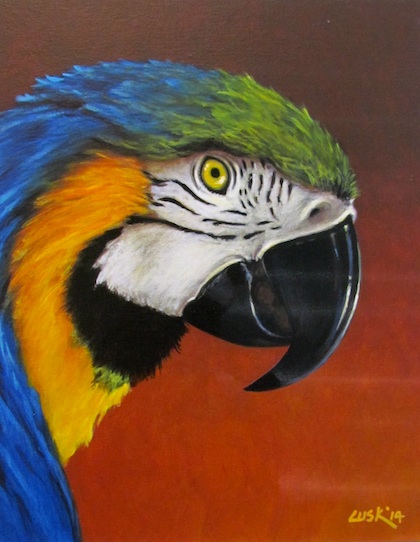 "Papa Gallo"
11 3/4″ x 14 3/4″ Acrylic on canvas
$1800 pesos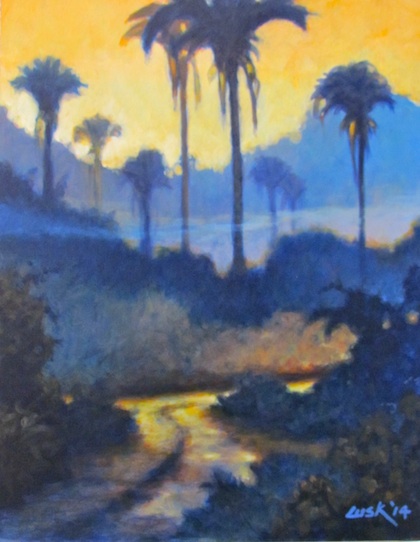 "Arroyo Sunrise"
11″ x 14″ Acrylic on board
$1500 pesos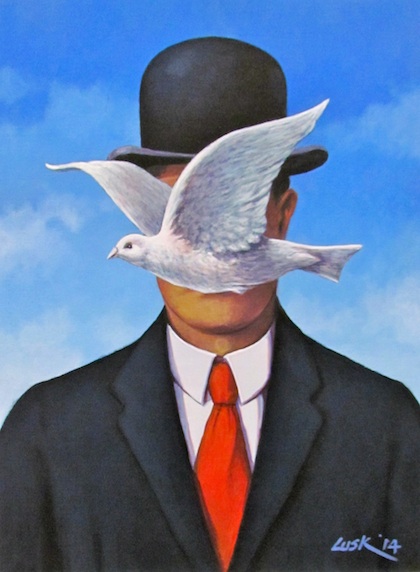 "Son of Man"
12″ x 16″ Acrylic on canvas
$1800 pesos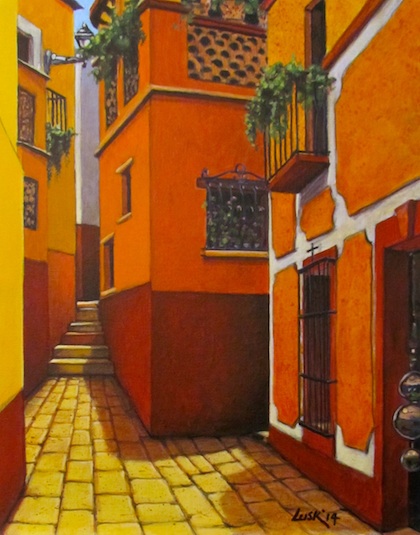 "Callejon Del Beso"
12″ x 15″ Acrylic on canvas
$1800 pesos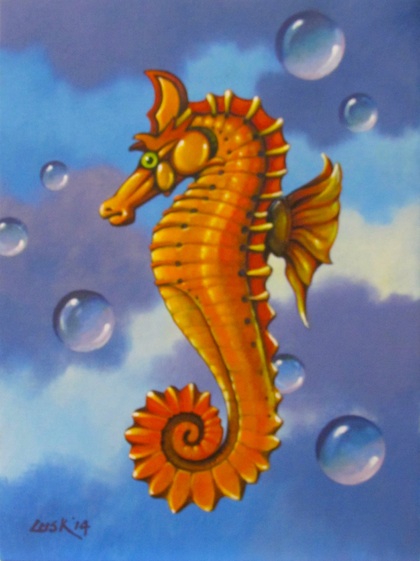 "Hippocampus Dream"
12″ x 16″ Acrylic on canvas
$1800 pesos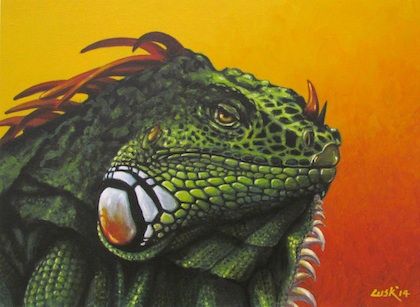 "Iguana"
16″ x 11 3/4″ Acrylic on canvas
SOLD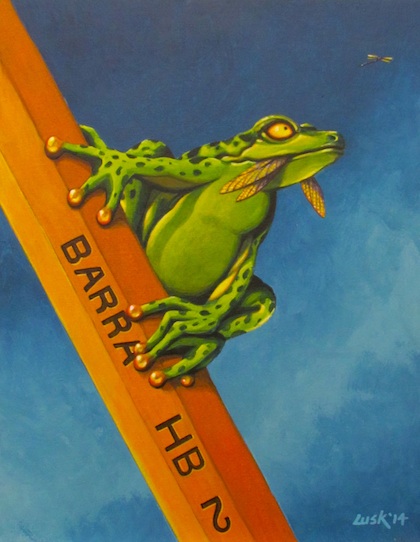 "Survival of the Fittest"
11 3/4″ x 15″ Acrylic on canvas
$1800 pesos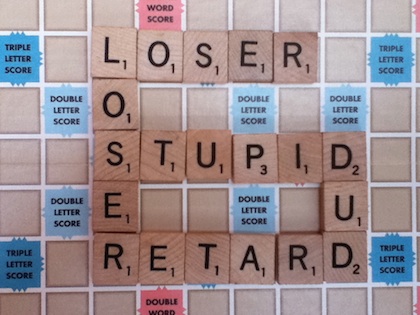 Not related to the coffee shop at all, nor to surfing, but… I just wanted to let everyone know that I whooped Eva's @$$ at scrabble the other night.
I beat her with a seven-letter word (W-H-E-E-L-I-N-G). …And it happened to be placed on a triple word tile, giving me 48 points. …Plus I got an additional 50 points for using all of my seven tiles –BONUS!!!
HaHaHa Eva!!!
A day late, but…………………….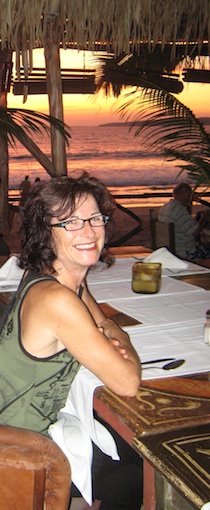 here is our NEW ARTIST at the shop.
Her name is Shanti Ragnoli.
She is originally from Brescia, Italy.
…But now currently resides most of the year in Albany, California.
But… is also fortunate to be able to spend five months or so
-here in Barra De Navidad.
–Where she is allowed most of her time to paint.
She does an amazing job with color combination, and really knows how to create texture.
Also, through her work, you can see her attention to detail.
As you can see below, she is an amazing artist!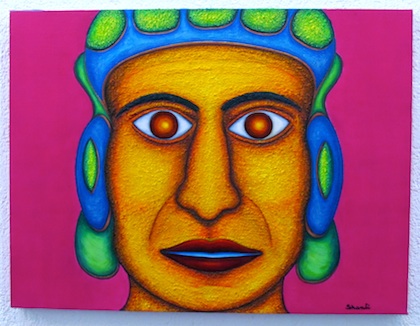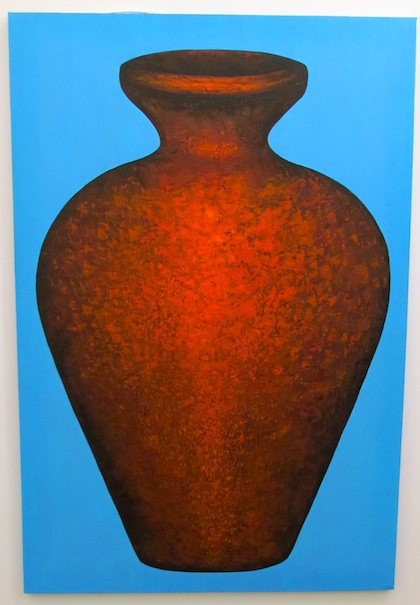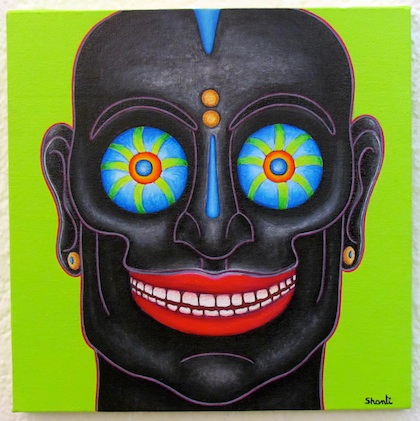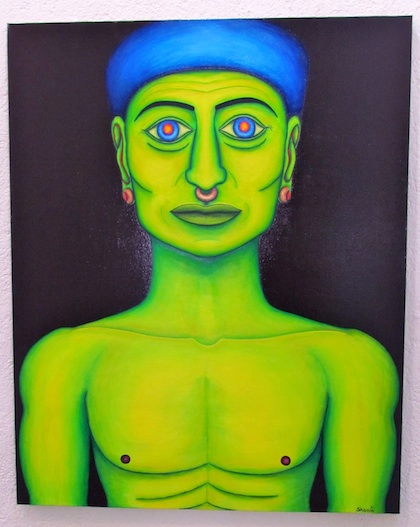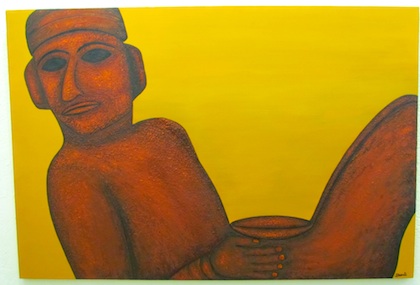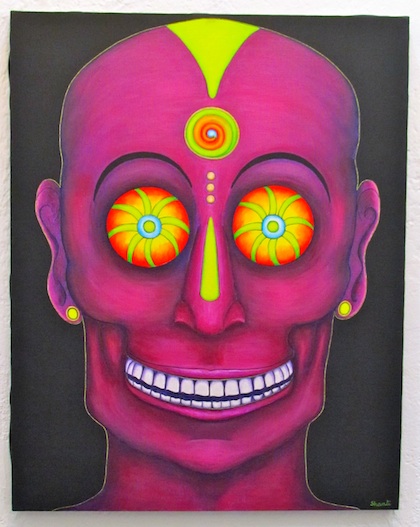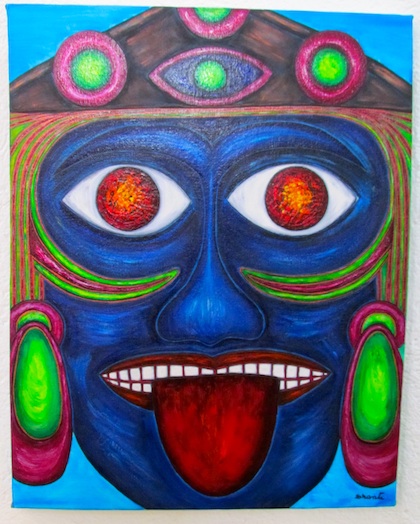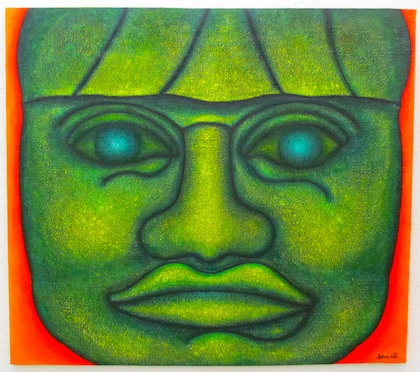 If you would like to see more of her work, you can visit her site at Shantiswork.com.